Sport and citizenship Think tank

Sport and Citizenship is the leading European think tank in the field of sport. Created in 2007 it aims to support the development of the European dimension of sport. Sport and Citizenship is dedicated to the study of European public policies in the field of sport, and the promotion of sport's societal impact. Ultimately, Sport and Citizenship promotes sport and physical activity as elements of a European identity.
Therefore Sport and Citizenship has been committed since its very beginning to the launch of a European civic dialogue in the field of sport thanks to multidisciplinary and transverse reflections aiming at putting European sport stakeholders in relation with each other: governments, sport movement, as well as civil society, academics and the private sector. Reflections produced are then brought to the attention of policy makers with the objective that is recognized at European level a certain specificity of sport based on its social, educational and civic dimensions.
Sport and Citizenship manages to maintain discussions on various topics and bring in new ideas. Sport and Citizenship takes part in EU-funded project with various partner across Europe. Also, the initiatives created by the private sector are important in the field of sport. Sport and Citizenship activities also include the publication of a quarterly scientific journal which comes back every three month on a topic related to sport.
Romanian Football
Federation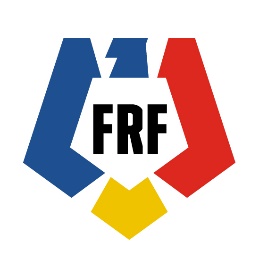 The Romanian Football Federation is a non-profit organization established in 1909, under the name of the Association of Athletic Societies in Romania. The institutional vocation of the RFF is to promote football all over the Romanian territory, to develop the football phenomenon in all its amplitude and to provide an organizational model for Romanian sports. The RFF's activity is based on a set of principles and values, that define its identity and manner of acting, such as: love for football, meritocracy, integrity, cooperation and trust, autonomy and subsidiarity, good governance, development and performance, no to violence, no to racism, fair play and perseverance. The Federation finds itself in the process of reforming and rebuilding the sports phenomenon at a national level, thus applying for the first time in Romania strategic management tools, answering the need to plan, step by step, all the necessary steps to develop football in Romania
Regarding the refugees, the Romanian Football Federation has started a cooperation with the organization Terre des Hommes aiming to actively promote the inclusion of refugees through football activities: organizing football teams for children and adults, organizing football tournaments between these teams and other teams, inviting refugees to football matches and meetings with football teams, educating coaches and match observers to promote acceptance and inclusion. It also aims to educate the responsible authorities for using the right approach when dealing with the issues regarding refugees and to see in football a competent tool of promoting positive actions.

Fundación LaLiga was legally established as a Foundation in 1993 as a tool to expand the social corporate responsibility of the Spanish professional football league LaLiga. The Fundación LaLiga develops programmes in four different areas: social, educational, cultural and institutional. It also provides support to improve the capacity of its main stakeholders, the foundations of the different football clubs playing in the first and second division (42 clubs). Fundación LaLiga provides training on new approaches to a variety of topics, from legal issues to female sport or education and social inclusion through sports. Fundación LaLiga also develops a set of programmes with different partners at local level to promote values education through the practice of sport.
ESSCA School of
Management
The Ecole Supérieure des Sciences Commerciales d'Angers, today generally referred to as ESSCA School of Management, is a private, not-for-profit French business school, founded in 1909 and now operating on a total of eight campuses in France and abroad. Since 2006, the school's EU-Asia Institute, a centre of research in the social sciences and humanities, has developed peer-recognised expertise in interdisciplinary European Studies, including the role of sports in the European integration process and international relations in general. It has hosted several events in the field, as well as coordinated international research projects. The school also hosts an Institute of Advanced Pedagogy, whose expertise in educational design will strongly contribute to the project's online learning deliverable.